What Does a Pedorthist Do?



Pedorthist   •   July 30, 2020



At some point in most of our lives, most of us have problems with our feet. We can search and search for the right shoe with the right fit, but at the end of the day, we're likely best served by meeting with a professional. That is where a pedorthist comes in. With their training and experience, they can help you live a more comfortable life on your feet.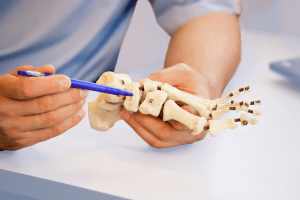 By assessing your feet and lower legs, a pedorthist can provide a biomechanical and gait analysis. This evaluates how you walk or run, and gives them a better understanding of your needs. With that information, they can then educate you about your condition and provide a treatment plan to help you! 
Depending on your needs, your pedorthist may provide you with over the counter devices that will help with your comfort. In some cases, a custom made orthotic will be recommended. Your pedorthist will professionally fit you for footwear that is appropriate for your foot type and problems. 
If you find yourself with foot pain and are need of relief, come see us at The Foot & Ankle Clinic by The Shoe Tree. We'd love to help!